Approved Security Functions for FIPS 140-2 vs FIPS 140-3
FIPS 140-2 and FIPS 140-3 have unique Approved security functions.
This eBook answers the following questions in an easy to read, crisp format with side-by-side comparisons of FIPS 140-2 vs. FIPS 140-3:
"What is an Approved security function?"
"Where are the Approved security functions defined?
"What are the differences in Approved security functions between FIPS 140-2 and FIPS 140-3?"
"Where can I find details on future cryptographic algorithm standards transitions?"
Hyperlinks to all relevant standards are included along with pointers to other helpful eBooks on FIPS and other exciting cybersecurity topics by AEGISOLVE.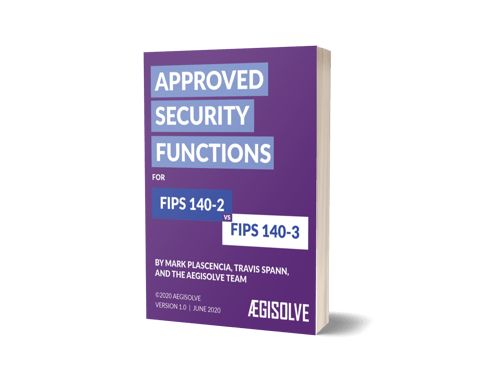 Download and Read Now
Free PDF Download Sent via Email