Your Free Guide to Obtain a Cryptographic Algorithm Validation in Ten Simple Steps.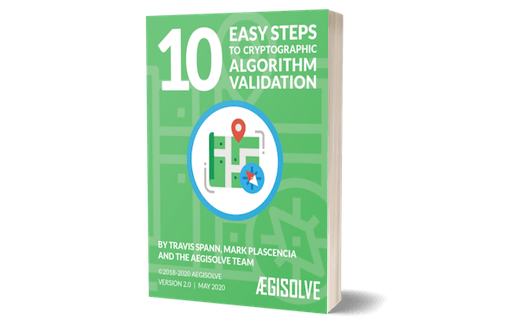 The purpose of this free guide by AEGISOLVE is to provide a step-by-step overview of how to obtain a cryptographic algorithm validation.
Refreshed with a brand-new Appendix, new content in the eBook will help guide you through the transition from CAVS 21.4 to the new ACVTS.
In this free guide, you will learn:
NEW - What makes ACVTS different from CAVS
NEW

- Examples of the new vector request/response files

How to find accredited FIPS labs.

How to work with limited resources to achieve government cryptographic security compliance.
Details on all phases of the cryptographic algorithm validation process.
Free resources available with respect to cryptographic algorithm validations.
How to avoid paying consultants hefty fees for simple guidance.
On working with AEGISOLVE:
"Aegisolve is spot-on when it comes to advice about not buying into the hype of consultants that have no scope of FIPS accreditation." said Dan Gordon, CEO of MyWorkDrive