Let's explore FIPS/ISO Algorithm Transitions
This eBook will help you understand the dynamic world of cryptographic algorithms and how they are evolving today and into the future.
UPDATED MARCH 2023 - NEW REQUIREMENTS ADDED
Learn The Future Standards of Cryptographic Algorithms
This guide will offer you a no-nonsense walk-through of the current state and future changes to FIPS/ISO standards for digital signatures, random bit generation, key agreement, key wrapping, hash functions, message authentication codes (MACS) and so much more. If you are a cryptographic module developer or vendor you'll find the tables and legends of this guide invaluable. Much of this information is derived from NIST Special Publication 800-131A Rev 2, Transitioning the Use of Cryptographic Algorithms and Key Lengths.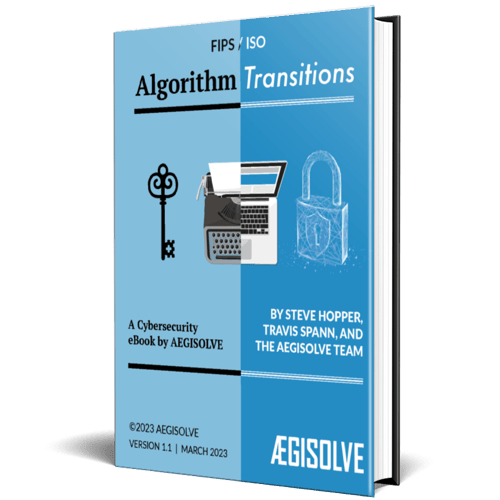 What you'll learn by reading this eBook:
Cryptographic algorithm transitions over time

Cryptographic algorithms with 112-bits of security strength (or greater) through 2030

Cryptographic algorithms disallowed after 2023

Transitioning away from SHA-1

Perceived discrepancies in the policies surrounding the use of Triple-DES
Explore FIPS/ISO Algorithm Transitions
Free PDF Download Sent via Email